RAS-supervised schools develop scientific thinking and flexible skills
4 May 2022 г. FRC KSC SB RAS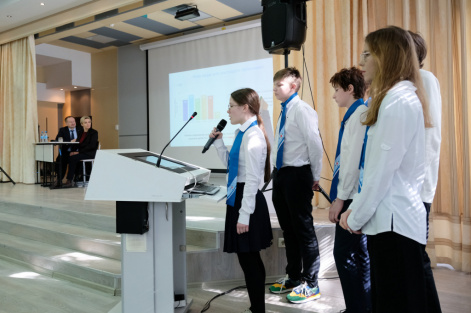 Gymnasium No. 13 "Akadem" hosted a traditional conference of students of scientific classes of RAS-supervised schools. Schoolchildren presented 15 reports in physics, chemistry, ecology and medical biology. As the participants and supervisors note, scientific work at school develops analytical skills, ability to work with information, work in a team, speak in public, and make reports. These important qualities will help the children in the future, regardless of whether they choose science or another field for their future profession.
The project of the RAS-supervised schools was started three years ago. More than 100 schools across the country participate in it. In Krasnoyarsk, according to the results of an independent examination, gymnasium No. 13 "Akadem", lyceum No. 7 and school No. 10. Each school of the Russian Academy of Sciences in Krasnoyarsk has its own area of scientific specialization: biomedical in gymnasium No. 13, chemistry in lyceum No. 7, and physics and mathematics in school No. 10; this work is supervised by scientists from the Krasnoyarsk Science Center of SB RAS. The main goal of the project is to attract young personnel and specialists to science.
Conference participants
At the conference in 2022, 15 reports were presented. They were evaluated by a jury consisting of scientists from KSC SB RAS, according to three criteria: presentation of the report, relevance of the study, and answers to questions. In the social network Vkontakte one can find a detailed photo report about the conference.
Winners of the scientific conference-2022 for students of the RAS schools in Krasnoyarsk:
1-st place
Anna Zakharchenko (Lyceum No. 7). Report "Optimization of the process of extracting pectins from fir bark affected by stem pathogens".
2nd place
Lebedeva Sofia (Lyceum No. 7). Report "Study of the stability of nanoparticles obtained from ethanol lignin of cedar bark under various conditions"
Dvoryankina Daria, Soshina Ksenya, Mordvinova Ekaterina, Simutina Anastasia (Gymnasium No. 13 "Akadem"). Report "Human genetic predisposition to multifactorial diseases"
3rd place
Makhmudova Varvara, Vasilyeva Daria, Osinsky Roman, Bershtein Konstantin, Zavyalov Bogdan, Khachatryan Egor (Gymnasium No. 13 "Akadem"). Report "Vitamins in the diet of a modern student"
Nazarov Lev, Iskaliev Andrey, Moiseev Bogdan (School No. 10). Report "Wastewater treatment from oil products using magnetic nanoparticles"
Shiryaeva Varvara (Lyceum No. 7). Report "Detection of iron in natural and drinking waters by various physical and chemical methods"
Yury Malyar, supervisor of the winner, senior researcher at the Institute of Chemistry and Chemical Technology SB RAS, commented on the event: "The level of participants is growing year by year. In the first two years, our work was affected by covid restrictions. This year, we have mainly face-to-face classes, and the difference is immediately visible. Such conferences are a useful experience both for speakers and audience.
It would be great to increase interaction between schools. This year it became noticeable that, although the areas of research are different, many of them are united by environmental topics. In terms of the work quality, of course, students of grade 10 immediately stand out, because they have been working on their projects for the third year. We try to develop the ability to speak publicly, to make reports - this is a very important quality, regardless of whether they choose science or some other direction. Everywhere one needs to be able to present oneself and one's work.
The high level of the reports was also appreciated by the jury members, one of them being the leading researcher at the Institute of Biophysics SB RAS, Candidate of Biological Sciences, Head of the Scientific Communications Group Yegor Zadereev: "When schoolchildren easily deal with complicated physical and chemical terms, are familiar with modern methods, of course, there is great joy. It is quite possible that many of the participants in this project will come to science, industry or other high-tech areas and will develop our economy and society. All the reports are of very high quality, and topics are interesting. After each presentation, there arise a desire to discuss and figure out where to go next, which is an indicator of good, high quality science. I hope all the members of the jury, really enjoyed today's conference."
Share: