Postgraduate student and employees of FRC KSC SB RAS received the award of the Governor of the Krasnoyarsk Region
2 December 2021 г. FRC KSC SB RAS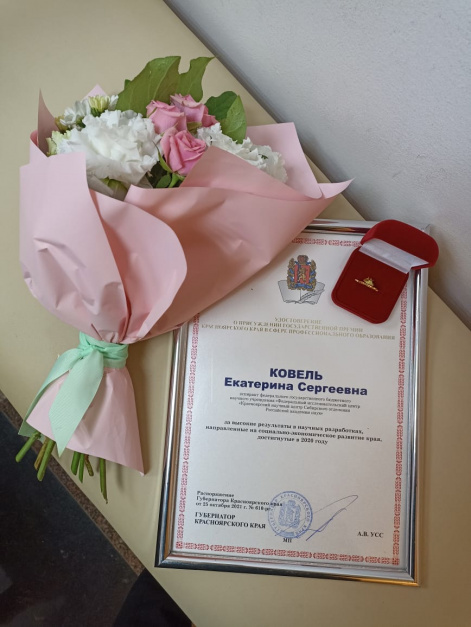 The award of the Governor of the Krasnoyarsk Region in the field of vocational education is given to encourage postgraduate students and doctoral students of educational institutions of higher and postgraduate vocational education, masters of industrial training, pedagogical and engineering-pedagogical workers of institutions of primary and secondary vocational education in the Krasnoyarsk Region who have achieved high results in scientific developments aimed at the socio-economic development of the region.
State awards of the Krasnoyarsk Region in the field of vocational education were established in 2014. Every year, applicants are considered by an expert commission formed by the Governor and Legislative Assembly of the Region. This year, the public and professional expertise reviewed about 100 applications for the state award.
According to the order of the governor "On the awarding of state prizes of the Krasnoyarsk Region in the field of vocational education", the awards were given to teachers with extensive experience and to young graduate students, young teachers, scientists and production foremen. 20 out of the 50 state awards of the Governor of the Krasnoyarsk Region in the field of vocational education were given to the best postgraduate students with high results in science. Among the winners is Yekaterina Sushko (Kovel), a postgraduate student of the Federal Research Center "KSC SB RAS" and a junior researcher at the Institute of Biophysics of SB RAS.
"I believe that scholarships and awards allows active students and postgraduates to think less about earning extra money, which frees up time and allows them to devote their time to scientific activities, which will be useful in the future in a developing innovative society. According to the terms of the competition, it was necessary to provide information about published articles, participation in competitions and conferences. Therefore, in order to win in such competitions, one needs to be an active student / postgraduate, have a "rather weighty" portfolio, be confident and not to be afraid of applying for competitions because even simple participation is a good experience. My dissertation work is concerned with the study of biological activity, toxic, antioxidant and prooxidant properties, carbon water-soluble nanoparticles - fullerenols, which are promising in medicine and biotechnology. Even in my student years, as a bachelor and master, I participated in numerous Russian and international conferences, wrote abstracts, participated in writing scientific articles, and this experience helped me a lot. I would like to thank my scientific supervisor - Kudryasheva Nadezhda Stepanovna for inspiring me to love science" said Ekaterina Sushko.
"Ekaterina is a unique postgraduate student, and her distinctive features are the desire to work, efficiency, high responsibility and attention to all the details of the process. She clearly and professionally plans the experiment, analyzes and interprets the results, helps and supports the students who come to our laboratory. Thanks to her, we are moving forward in the direction of her dissertation and mastering new ones. Our experimental methods are characterized by fast rates and ease of measurements, and allow us to carry out a large number of measurements under comparable conditions, which makes it possible for us to form a basis for the comparative analysis of the biological activity of various substances. Ekaterina's objects of research are nanoparticles with a modified surface, and her goal is to reveal the relationships between the structural features of nanoparticles and their biological activity in various concentration ranges. This will make it possible to predict the biological activity of nanoparticles - toxicity, anti- and prooxidant activity, their quantitative characteristics, which makes it possible to select nanoparticles with desired properties for medicine, pharmacology, and environmental control systems. This is a global direction, and Ekaterina is its driving element," said Nadezhda Kudryasheva, Doctor of Physical and Mathematical Sciences, Professor, Leading Researcher at the Institute of Biophysics of KSC SB RAS,.
The award of the Governor of the Krasnoyarsk Region in the field of vocational education was also received by postgraduates and doctoral students of the Siberian Federal University, and employees of the Federal Research Center "KSC SB RAS":
Zharnikov Zakhar Yurievich, Candidate of Historical Sciences, Senior Researcher, Laboratory of Tree Ring Structure, Institute of Forest, SB RAS;
Zhuikov Andrey Vladimirovich, Candidate of Chemical Sciences, Researcher, Laboratory of Hydrometallurgical Processes, Institute of Chemistry and Chemical Technology, SB RAS;
Bondarev Ilya Aleksandrovich, Junior Researcher, Laboratory of Space Systems and Technologies;
Burmitskikh Anton Vladimirovich, Junior Researcher, Laboratory of Scientific Instrumentation, Institute of Physics, SB RAS.
We congratulate the winners with the well-deserved award and wish them success in their further research!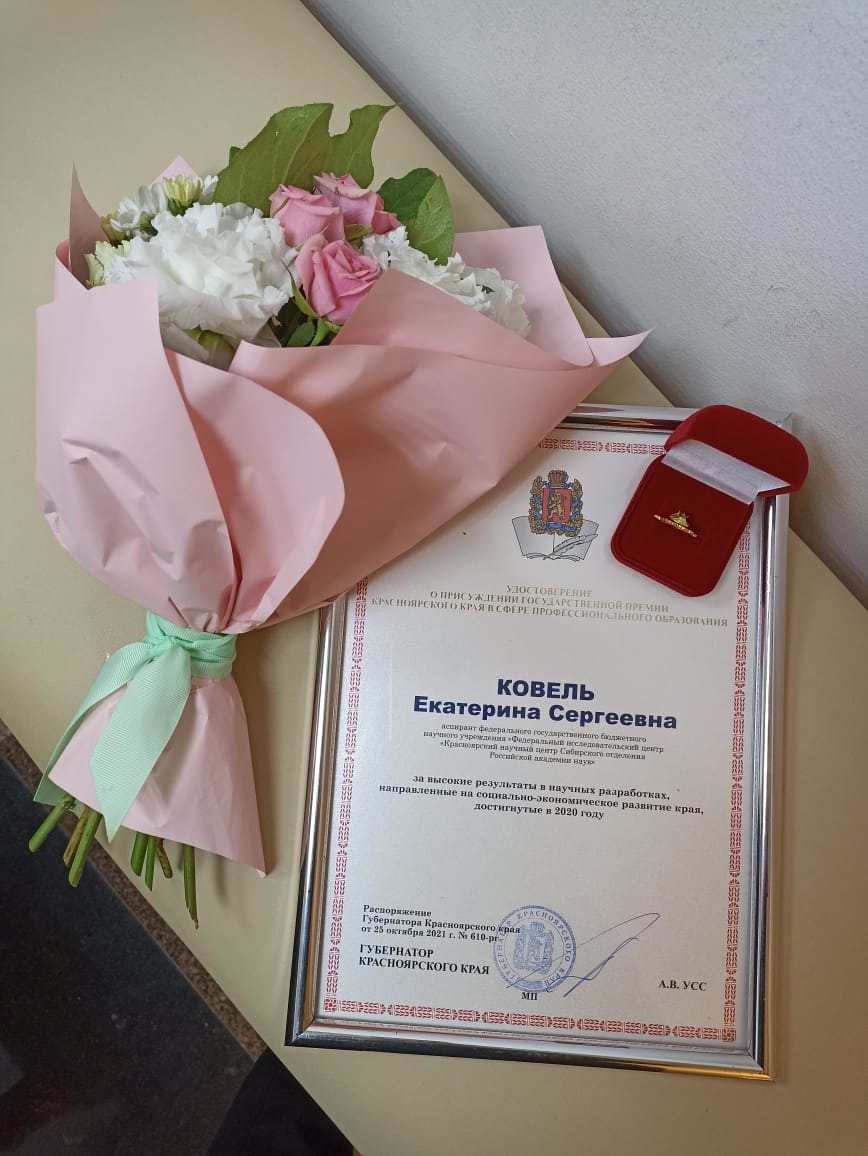 Share: