Leading plant breeders of the country met in Krasnoyarsk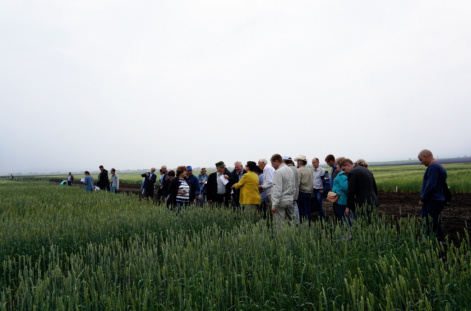 In late July, the Krasnoyarsk Science Center SB RAS hosted the international conference "Optimization of the plant breeding process - a factor of stabilization and growth of the crop production in Siberia". Leading plant breeders of the country presented the results of their work on the creation of new varieties of cereals and fruit crops, discussed acute problems regarding plant diseases and cultivation of resistant plant species. Scientists noted that it is necessary to more actively study the immunity of crops and improve the quality of the existing varieties.
The international conference "Optimization of the plant breeding process - a factor of stabilization and growth of the Siberian crop production" and the 46th Problem Board for crop cultivation, plant breeding, biotechnology and seed production, dedicated to the 90th anniversary of Academician P.L. Goncharov and to the 50th anniversary of SB RAAS were held in Krasnoyarsk. The venue and one of the main organizers was the Krasnoyarsk Science Center SB RAS. The event brought together scientists in the field of selection, genetics and seed production from different parts of Russia, as well as from neighboring Kazakhstan and Mongolia.
The importance of the selection was emphasized in his welcoming speech by the director of the Federal Research Center "Krasnoyarsk Science Center SB RAS" - Nikita Volkov, pointing out that selection is a difficult and long, but incredibly significant process. Owing to selection, the productivity of many crops has increased several times. The cultivation of varieties resistant to pests and diseases allows preserving plants and crops. The creation of cold-resistant varieties makes it possible to grow pears, apples, plums and even grapes in Siberia. However, research in this area is ongoing, there are still quite unresolved issues.
It is important to put into practice new genetic methods for the analysis of variety genotypes to increase crop yields and crop immunity and to evaluate selection material using genetic and protein markers. More than 50 scientists came to Krasnoyarsk to discuss success and problems of the plant breeding.
Significant issues considered at the conference were the study of plant diseases and the cultivation of varieties resistant to them. This problem becomes especially acute taking into account climate change, because due to warming the distribution range of pathogenic agents is expanding. In her report, Lyudmila Ashmarina, Doctor of Agricultural Sciences, Head of the Laboratory of Immunity and Plant Protection of the Siberian Research Institute of Feedstuff (Novosibirsk) told about the fight against diseases of crops.
Nowadays about 70 most harmful common diseases are found in fodder crops, including peronosporosis, ascochitosis, powdery mildew, root rot, various types of rust, bacterial diseases, and others. "Every year the number of detected species of the causative agent of fusarium is increasing. For example, in 1998 it was difficult to detect diseases in soybean which is quite new in the cultivation process, but now it is regularly affected, " said the scientist.
Due to diseases, instead of valuable crops with a large yield, we have frail, extremely unproductive plants. Such plants lose their nutrients, resulting in the decreased quality of feedstuff produced from such crops. This leads in its turn to a significant loss in the quality of food produced by animals eating such feedstuff. For example, some toxins from the contaminated feed can enter eggs and milk. Lyudmila Ashmarina emphasized that it is risky to eat infected cultures.
In order to choose the most resistant "parent plants" for selection and obtain varieties that can resist diseases, scientists carry out a phytopathological assessment of the most promising breeding material of various feed crops regarding the infections. After the study the species that are less susceptible to diseases are included in the selection for breeding new disease-resistant varieties.
Scientists also created a database of diseases containing images of the characteristic signs of plant damage, biological characteristics of pathogens for all known fungal, bacterial and viral diseases of grain crops. The database allows one to quickly and easily identify the disease with an accuracy of the pathogen and stage. It also contains recommendations on agrotechnical, chemical and biological methods of the crop protection.
A visit to the experimental fields of the Krasnoyarsk Research Institute of Agriculture was a special part of the event. Before the conference, the participants sent to Krasnoyarsk varieties of cereals created at their scientific institutes in other regions. These varieties were planted by scientists of the Krasnoyarsk Research Institute of Agriculture for ecological variety testing. This allowed us to see and evaluate how the behavior of plants in the conditions of another region.
In the fields, participants were also demonstrated the application of Earth remote sensing methods in agriculture. As a rule, remote sensing is performed using space satellites, but, due to the large distance to the earth and atmospheric interference, such images have insufficient accuracy, noise and ambiguity. Remote sensing carried out jointly by the Institute of Agriculture, Physics, and Biophysics of the Krasnoyarsk Science Center SB RAS does not have these issues since it is a ground-based study which is performed using a drone making surveys and spectrometers for measuring the spectral characteristics of the earth and plants. The data obtained can be used for cartometry and soil study. Of course, such a system cannot be used in case of large area monitoring. However, the data obtained with its help can be compared with satellite images containing noise, and corrected, revealing incomprehensible values.
"To study small areas, such a system is much more convenient than space monitoring. It provides accurate, colorful and high-quality ground-based surveys of agricultural areas and facilities. Owing to this remote sensing, it is possible to implement an inventory of agricultural lands, assess the condition of unused areas, whose number is now large. With the help of the ground-based data concerning the condition of the soil and plants, it is possible to make forecasts, for example, to predict the yield or to estimate the necessity to introduce fertilizers. Moreover, this method allows one to study the weediness of crops, because their spectrum in the images differs from that of pure crops, " -says Anatoly Shevyrnogov, Doctor of Technical Sciences, head of the laboratory of environmental informatics at the Institute of Biophysics SB RAS.
Scientists at the Krasnoyarsk Science Center SB RAS note that in the near future, hyperspectral imaging is also expected to be performed by drones collecting data and providing images in various spectral ranges. Moreover, it will be possible to additionally include various soil, nitrogen and other indices, to make the system a very powerful tool for detecting, monitoring and diagnosing the condition of agricultural fields.
In addition to the conference and excursions to the fields, a number of reports were made by the representatives of the plant breeding centers of various research institutes of agriculture concerning the most significant achievements over the past few years. For example, the Altai breeding center and the Omsk Agricultural Scientific Center have established new laboratories of molecular genetic foundations for plant breeding. Varieties resistant to septoria and stem rust have been obtained at the Scientific Research Institute of Agriculture, Northern TransUrals, Tyumen. At the Siberian Research Institute of Plant Cultivation and Breeding in Novosibirsk, a new type of triticale has been created - a hybrid with 32 rye chromosomes and 10 wheat chromosomes, as well as a study of Septoria and root rot diseases has been started. Scientists of the Federal Altai Scientific Center of Agrobiotechnology SB RAS have introduced new varieties of honeysuckle, sea buckthorn, strawberries, plums, currant, which are distinguished by large fruit, productivity and a sweet taste. Breeders of Siberia and Kazakhstan have formed a unique genetic fund of various crops, especially regarding wheat.
Scientists at the Agricultural Research Institute of the Krasnoyarsk Science Center SB RAS presented a joint work with Latvian and Lithuanian biotechnologists in the selection of winter rye with a low content of pentosan polysaccharides. This property allows using it to create compound animal feed stuff and a healthy diet for people. No less important is the study of beta-glucans in oats and barley which are efficient immunomodulatory substances. Products obtained from these crops can reduce the risk of heart disease.
However, at present breeding centers and research institutes turn out to face hard times. Many specialists noted such problems as a lack of highly qualified specialists and funding, which negatively affect scientific work. It was suggested that the problem of lacking professional stuff should be solved by establishing undergraduate and graduate departments in the field of plant breeding and seed production rather than agricultural specialities, in general. At the conference, a decision was also made to create a journal "Letters to the Vavilov Journal of Genetics and Plant Breeding". This will aid in keeping scientists informed of latest developments.
Nikolai Surin, Chairman of the Siberian Board for Plant Breeding and Seed Production, Academician of RAS, Director of the Krasnoyarsk Research Institute of Agriculture, notes that many studies are devoted to the creation of high-yield varieties, while few people are engaged in improving the quality of the existing ones. He also says that many topics still remain poorly understood, for example, variety agricultural technology, genetics, biotechnology, physiology and plant immunity. The scientist emphasizes that it is now important to study plant immunity, improve plant resistance to diseases and extreme factors, increase tolerance of varieties to diseases, and also develop research aimed at improving grain quality.
The next 47th Problem Board for Plant Cultivation, Breeding, Biotechnology and Seed Production and the International Conference on Plant Breeding will be held in Barnaul in 2020.
Share: