RAS-supervised classes were established for schoolchildren in Krasnoyarsk
2 September 2019 г. FRC KSC SB RAS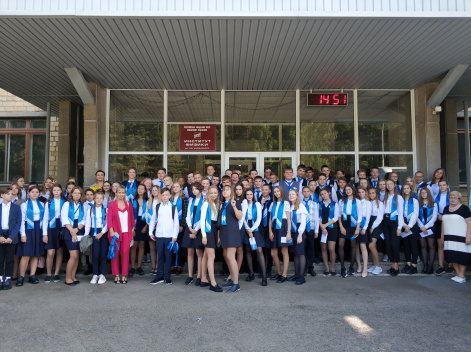 In the new academic year, more than a hundred Russian educational institutions which received the status of RAS-supervised schools welcomed schoolchildren for the first time. In Krasnoyarsk, as many as three schools will train future scientists.
On Monday, September 2, a celebratory assembly was held for Krasnoyarsk schoolchildren, who from will begin to study science in depth since the eighth grade. Future scientists were congratulated by the Director of the Krasnoyarsk Science Center SB RAS, Doctor of Physical and Mathematical Sciences, Nikita Volkov, scientific director of the center, academician of RAS, Vasily Shabanov, and representatives of the regional government and central education department of the Krasnoyarsk administration.
A colorful scientific show and a solemn initiation ceremony were prepared for schoolchildren and guests, followed by an excursion to the scientific institutes of the Center. The participants met with the supervisors of scientific classes, watched the scientific process, which will soon become part of their educational program.
Among the Krasnoyarsk educational institutions, gymnasium No. 13, lyceum No. 7 and secondary school No. 10 were chosen to launch the project "RAS-supervised schools". Each educational institution will develop its own scientific direction. In gymnasium No. 13, students will be immersed in molecular biology and personalized medicine. In Lyceum No. 7, emphasis will be placed on chemical and biological studies, primarily on the integrated processing of renewable raw materials. Secondary school No. 10 will focus on the physical and mathematical direction.
In each scientific class, along with general education, students will receive additional in-depth knowledge in their subject area. Theoretical and practical classes here will be taught both by school teachers and research associates of the Krasnoyarsk Science Center SB RAS. The program suggests that these schoolchildren should be able to conduct independent scientific experiments. According to the plans, each school will have its own scientific laboratory.
The project to create RAs-supervised schools will aid schoolchildren in choosing their career in the field of science and high technology. The anticipated result is the influx of young scientists into scientific and educational organizations and research centers of the country.
It is worth reminding that at the beginning of 2019, the Russian Ministry of Education together with the Russian Academy of Sciences, suggested creating RAS-supervised schools in 32 regions of the country. The main idea of their establishment is the training of talented schoolchildren and the preparation of future researchers for scientific work.
Share: