A Jubilee Conference in Foreign Languages was held at the Krasnoyarsk Science Centre SB RAS
2 April 2019 г. FRC KSC SB RAS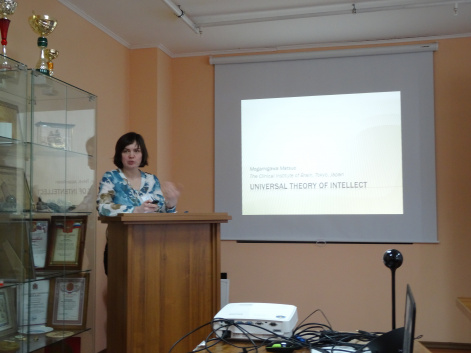 On 28-29 March, the 50th Universal "Eureka" Conference in English and German was held at the Krasnoyarsk Science Centre SB RAS on the basis of the Foreign Languages Department. It is another format of the language education in the framework of advanced training of the researchers of the Science Centre.
On the threshold of the 1st of April – the Day of Laughter and Humor – scientists and post-graduate students make scientific presentations, most of them in a joking manner. The conference procedure is similar to real scientific conferences. Each presentation is followed by a discussion, in which participants of the conference ask questions, make suggestions, remarks. It is a simulation of actual scientific conference at all their stages.
"It is already the third year I have been studying English in a group of young scientists and post-graduate students. An optimal number of classes a week and convenient time allow us to regularly attend classes. Teaching includes oral practice and other language skills. Besides class activities, the language course is supposed to include extra curriculum work. During the time of the studies our group has three times performed creative sketches in English, taking part in "Christmas" and "April parties". The extra activities, besides classes, allow us to get submerged into the English-speaking environment and informal situations. Moreover, regularly practicing English makes it possible for us to write and translate papers without difficulties, which is very important for scientists. As a result, regular communication with foreign scientists becomes easier, which contributes into the establishment of new contacts, and development of further scientific activities – says Tatyana Smolyarova, a research associate from the L.V.Kirensky Institute of Physics KSC SB RAS.
"The First of April Conference" is a kind of a landmark of the Foreign Languages Department of the Krasnoyarsk Science Centre. Almost every scientist, working at the Centre, has studied and participated in our activities and has successfully been using the knowledge obtained at our classes. The efficiency of the simulated conferences, organized by our Department, is obvious. The scientists overcome the language barrier, make comments and hold discussions in a foreign language. At the Department we teach three languages – English, French and German, which sufficiently meets the necessities of scientific communication with foreign colleagues. Special attention is given to the preparation of the researches for the conferences, which is extremely valuable in order to be a successful scientist, emphasizes Ekaterina Nefedova, a senior teacher of the Department.
Share: