Krasnoyarsk scientists have obtained a three-dimensional structure of aptamer molecules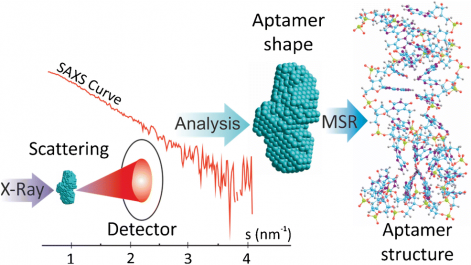 According to the TASS news agency, Krasnoyarsk scientists have completed one of the key stages in the development of digital drugs based on aptamers which are capable of finding and acting on specific cells in a human organism. The conducted experiments would allow creating new drugs for the diagnosis and treatment of various diseases. The results are published in the journal Analytical and Bioanalytical Chemistry.
Aptamers are artificial molecules based on short chains of DNA or RNA. They are able to find target molecules, such as diseased cells, in the human body and bind to them. The scientists believe that aptamers will aid in making the therapy of many diseases accurate and safe for healthy tissues.
In the experiments performed on the synchrotron at the National Research Center "Kurchatov Institute", a team of researchers from Krasnoyarsk, Moscow and Canada identified three-dimensional structures of the aptamer, which helps to avoid thrombosis during surgical operations. This allowed us to create a three-dimensional model, which is used in building and improving agent molecules in order to fight diseases.
"We were able to prove that the three-dimensional structure of the considered aptamer which was obtained as a result of the calculations has the most energetically favorable conformation in solution. The aptamers with this structure will be useful as independent therapeutic agents, and similar molecules can become a convenient «transport» for delivery of drugs or, for example, luminous molecules which can identify cells of the human body affected by a disease, " explains a co-author of the study, research associate of the Krasnoyarsk Science Center SB RAS, Roman Moryachkov.
Share: