Krasnoyarsk scientists are taking measure to extend the life of forest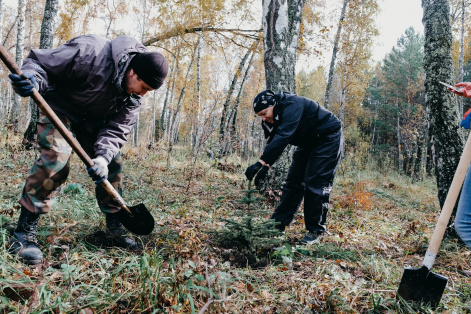 Federal Research Center KSC SB RAS and the V.N. Sukachev Institute of Forest held an environmental campaign "Together we will save forests". On a forest site in Akademgorodok, near Blinka, scientists, together with activists, planted almost three hundred new trees.
The work was divided into two stages. During the first, forestry specialists dug holes and prepared the soil for seedlings. The second part of the campaign was to plant young trees, including such species as: Siberian cedar pine, Siberian larch, Siberian spruce, as well as common mountain ash, Mongolian oak, small-leaved linden, Manchurian linden, etc.
As noted by one of the organizers, Maria Kiriyenko, a leading expert on landscaping at the Institute of Forest KSC SB RAS, this is a very important campaign, because birches have grown in Akademgorodok for many years. The forest is gradually dying. Therefore, the scientists have decided that it is necessary to plant young trees so that a new forest could grow to replace it. Moreover, after planting, scientists will monitor the condition of trees and their growth.
Share: