Season of scientific field works has begun
27 May 2022 г. FRC KSC SB RAS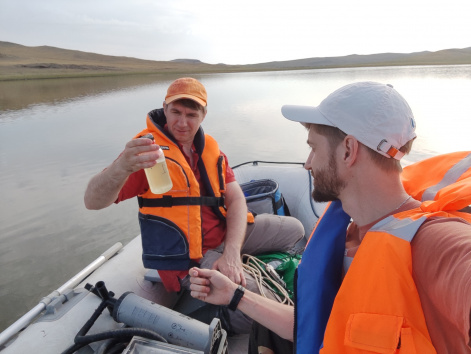 The season of field works has begun for scientists from many laboratories and institutes of the Krasnoyarsk Science Center SB RAS. The period of positive temperatures is hot time for environmental research in Siberia. It is necessary to go around the objects of study, collect samples, conduct experiments.
Many field studies are geographically linked to research stations. The network of 12 stationary stations of the institutes of the Krasnoyarsk Science Center of SB RAS covers almost all climatic zones of Siberia - from the steppes in the south to the tundra in the north. Such a network makes it possible to study the features of the functioning of various ecosystems subject to natural and anthropogenic factors.
Employees of the Institute of Biophysics of SB RAS shared their photos made at their work place.
"We took a picture of the 'minimum lake sampling set' to show the complexity and cost of environmental research. Everything that is collected in the photo is needed to have the minimum information about the ecosystem of the lake at the moment. After that, sophisticated equipment and qualified researchers are required to process the collected material. At the same time, one trip to the lake is only a point in its continuous life. Such trips should be made regularly in order to get closer to understanding how ecosystems work. At the same time, environmental research on lakes has a lot of practical, though sometimes remote, applications: from water quality management to the development of new aquaculture technologies. That is, these are activities that improve the quality of our life," says Egor Zadereev, Candidate of Biological Sciences, Leading Researcher at the Institute of Biophysics.
"Our trip is short-term, just to collect samples for experiments in the laboratory. There was already another team at the station before us. They removed equipment from Lake Shira which had been collecting samples all winter. As soon as we leave, colleagues who are interested in life around the lake will arrive. While in winter researchers come to the station from time to time to perform under-ice sampling of water and various items, in summer it is constantly crowded. The collected data are processed and analyzed later. Owing to this station, not only state assignment projects are implemented, but also several projects supported by scientific foundations (RSF, RFBR, KSF), including those with international participation. More than a dozen scientific articles are published annually based on the results of fields work at the station," told Anton Drobotov, Candidate of Biological Sciences, Researcher, Head of the Research Station of the Institute of Biophysics of SB RAS on Lake Shira.
Share: