New reusable composite made of nanofibers and nanodiamonds will allow detecting toxic substances in water
29 October 2021 г. FRC KSC SB RAS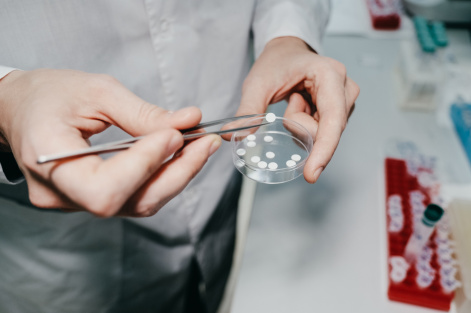 Krasnoyarsk scientists have developed a new composite material based on aluminum oxide nanofibers and detonation nanodiamonds. It is inexpensive and easy to produce, and it will allow detecting toxic substances such as phenol in industrial wastewater. The research results are published in the Journal of Nanoparticle Research.
Phenol is one of the most common pollutants in natural waters. It is used in the production of plastics, pharmaceuticals, pesticides, and herbicides. The existing highly sensitive methods for the phenol detection are time-consuming and require multi-stage and laborious sample preparation procedures and expensive special equipment. At the same time, effective monitoring of industrial wastewater requires fast and inexpensive methods to detect hazardous substances.
A team of Krasnoyarsk scientists from the Federal Research Center "KSC SB RAS" and Siberian Federal University have developed an inexpensive, easy-to-produce and easy-to-use composite material for the detection of phenol in industrial wastewater. It consists of alumina nanofibers and detonation nanodiamonds.
The composite material has a network structure in which nanodiamond clusters are distributed over the surface of nanofibers. Experts note that such membrane structures have a number of advantages over polymer nanofiber materials. For example, they have higher thermal and mechanical stability, enhanced chemical and biological resistance, ease of cleaning and longer operational lifetime.
"As a result of the activities of many industries, a large amount of chemical compounds gets into surface water bodies, these being hardly biodegradable and toxic. One of them is phenol and its derivatives. In this regard, there is a need to monitor the level of pollution of industrial wastewater, allowing easy and efficient "on site" analysis of water. This would help environmental services and public to more quickly assess the ecological state of natural waters. The procedure for the colorimetric analysis of water for the phenol content using the composite obtained is as follows. An aqueous sample with preliminarily introduced reagents is added to the surface of the prepared composite, which has a white color. If phenol is present in the sample, nanodiamonds present in the composite material trigger a colored reaction and the composite turns crimson. The color intensity is proportional to the phenol content in the sample and can easily be assessed "on the spot" using the color scale," explains one of the co-authors of the study, Nikita Ronzhin, Candidate of Biological Sciences, Researcher at the Institute of Biophysics SB RAS.
Experts from the Federal Research Center note that the developed composite can be used repeatedly, in a series of at least six consecutive tests. After each use, it is only necessary to rinse the composite disc with deionized water to remove any residual reaction components.
"We have shown that the created composite allows performing an easy colorimetric analysis for the qualitative and quantitative identification of phenol in water. The tests confirm that the composite can be reused and it retains its catalytic function for up to a year when stored at room temperature. Colorimetric detection of phenol and phenolic compounds is very promising because the test results are visible to the naked eye. Quantification of phenol can be performed using a spectrophotometer. Alternatively, an image of a color product can be captured even by the camera of a regular mobile. The results can be analyzed using a specially created program. The results obtained open up prospects for the development of a new class of display systems for multipurpose use, for example, 2D and 3D sensors. In addition, the proposed composite can be used as a host matrix for enzyme immobilization, which provides prerequisites for creating new reusable medical diagnostic systems," says Ilya Ryzhkov, Doctor of Physical and Mathematical Sciences, leading researcher at the Institute of Computational Modeling SB RAS.
This research was partially supported by the Russian Foundation for Basic Research (project 18-29-19078).
Share: