Seedlings of the Minusinsk experimental station are not afraid of cold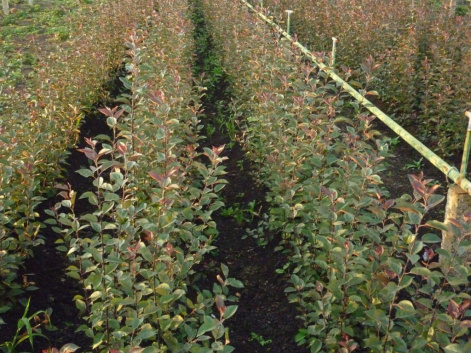 Autumn is time to renew the garden and its fruit crops. However, before planting heat-loving pears and apricots in a cold garden unfavorable for them, they should get "accustomed" to cold. In order for the seedlings not only to take root, but also to bear fruit in Siberia, they must be frost-resistant. Such varieties are bred by scientists of the Krasnoyarsk Science Center SB RAS at the Minusinsk experimental station. Anyone can purchase varieties adapted to Siberia on the site of the experimental station.
Autumn is time favorable for planting seedlings of fruit and berry crops. The soil at this time of year is quite wet and loose, which reduces the need for watering plants. If you plant in the early fall, following its terms, then the seedlings have enough time to grow stronger by winter. Despite the dormancy period for trees and shrubs, their roots continue to grow, which allows them to take root in a new place before the beginning of cold weather. As a result, in spring such plants start growing several weeks earlier. It is important to remember that for autumn planting it is better to choose seedlings adapted to the weather conditions of the area where they are to grow.
Southern areas are home to many fruit and berry plants. In Siberia, dry winter air and winds, shortage of precipitation in spring and early summer, and spring frosts are dangerous for thermophilic perennials. Even in the case of several warm winters, the variety, which is unsuitable for local temperature conditions, will grow only a few years. Therefore, it is important for the gardener to choose the right variety which can tolerate low temperatures.
At the Minusinsk experimental station the scientists of the Krasnoyarsk Science Center SB RAS are developing new varieties of fruit crops adapted to the extreme conditions of the region, with high annual yields, which are resistant to major pests and diseases. For example, breeders plant cultivated varieties of apple trees on winter-resistant stocks of ranets or wild apple trees, and cultivated varieties of pear - on highly winter-resistant stocks of the Ussuriysk pear. When a stem cutting of a cultivated apple variety is grafted into the root neck of a wild apple tree, one has a seedling with a wild root and an aerial part of the apple variety. These stocks enhance the variety resistance to winter frosts, which is very important for growing such trees in severe Siberian climate.
The fruit of new varieties have different ripening periods, they are suitable for various types of treatment, as well as for fresh consumption. Now seedlings of fruit, berry and ornamental plants grown under the supervision of scientists can be purchased online on the website of the Minusinsk experimental station.
The Minusinsk Experimental Station is the only enterprise representing the fruit and berry farming, nursery, as well as vegetable and seed production of garden plants at once in the Krasnoyarsk Region. Leading agronomists of the region offer seedlings of black, red and white currants, gooseberries, cherries, plums, pears and other fruit and ornamental plants grown under the strict supervision of scientists. The varieties of the Minusinsk breeding enterprise are resistant to frosts and dry winds, being adapted to the severe Siberian climate, and producing high yields.
Useful tips from gardening scientists:
To plant successfully, with minimal stress, both for plants and for the gardener, it is recommended to use the following agrotechnical techniques:
• Cherry is planted at a distance of 3 meters between the rows, with the bushes being 1.5 meters apart. Sea buckthorn is planted at a spacing 2 meters in a row, with the rows being 4 meters apart. Raspberries should be 0.5 meters apart in a row, with the distance between the rows being 3 m. Berry bushes (black and red currants, gooseberries, honeysuckle) are planted at a spacing of 0.7-1.0-1.5 m in a row, 2-3 meters being between the rows.
• When planting fruit trees, pits should be dug 60 cm deep, 60-70 cm in diameter. If the soil is poor in humus, it is useful to add into the planting pits 2 buckets of humus, 500 g of superphosphate, 60-80 g of potassium fertilizers, and up to 1 kg of the latter for acid soils. Good is also to add hydrated lime or 300-400 g of wood ash.
Pour out a heap of the soil mixture into a hole and put a seedling on its top. Pay attention that the root neck of an adult tree should be at soil level, so when planting it is placed 2-4 cm above the surface of the soil, taking into account its subsidence in the planting pit after watering.
• Do not plant too deep, otherwise the tree growth will be slowed down. Shallow planting is also harmful - the roots dry out, and taking root is worse.
• It is worth making a hole for watering, forming a side 15-20 cm high. In any weather, when planting, seedlings must be watered at the rate of 2-3 buckets per bush. After the water is absorbed, the circles around trunks are mulched with humus, peat or dry soil.
• Planting of berry plants is carried out similarly to that of fruit trees. Planting pits for berry bushes are made 30 cm deep, 30-40 cm wide. Organic and mineral fertilizers are also added: 1-2 buckets of humus, superphosphate - 200 g, potassium salt or wood ash - 40 g, and ammonium nitrate - 20 g per 1 bush. The fertilizers are mixed with the topsoil, poured out into the pit. When planting berry plants, seedlings are buried 10-12 cm from the root neck.
• It is worth remembering that young immature sprouts are not always able to survive the winter without proper care. The trunks of the trees planted in autumn should be protected from rodents, which will not mind eating bark in winter.
Share: