Spring "Scientific sketches" in the arboretum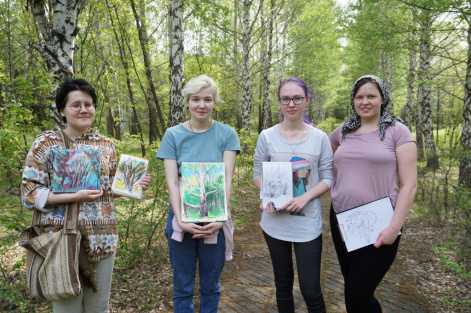 The event "Spring scientific sketches" was organized in the arboretum. For the second time the scientists of the Krasnoyarsk Science Center SB RAS invited painters in the frames of the project "Scientific sketches". The aim of the event is to unite science and art. This time the painters visited the arboretum of the Sukachev Institute of Forest SB RAS during the period when the plants are in full blossom.
The end of May is the best time for those who love beauty. The Siberian nature wakes up: young leaves appear, many shrubs are in blossom. The students of the Hvorostovsky Siberian State Institute of Arts were shown unique species of plants which were brought from other countries and are growing on the experimental plot near the Institute of Forest. The junior research associate, Candidate of Biological Sciences, Maria Sedaeva told the guests about the peculiarities of blooming of different plants. Now the participants of the "scientific sketches" know how, for example, to distinguish blooming almond from cherry. After an hour-and-a half excursion in the arboretum the young painters made some sketches in pencil, pastel and markers.
«Someone can say that science and art are incompatible. For scientists their scientific activity is closely connected with creativity. «Scientific sketches show what happens when science and art come in contact", says one of the organizers of the project, the PR specialist of the Krasnoyarsk Science Center SB RAS, Ekaterina Burchevskaya.
"Finally, my dream to visit the Krasnoyarsk arboretum has come true. The pleasant bonus has been the lecture of a scientist from the Institute. I am sure that I have got aesthetic and intellectual pleasure from the today's event", says a participant of the excursion Olga Puhova.
The first scientific sketches were devoted to the Day of Cosmonautics. At that time the artists painted the space project of the Institute of Biophysics, which is the closed life- support system BIOS-3.
Share: