Changing climate makes birch trees move to the mountains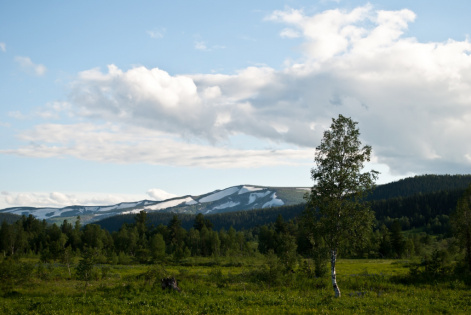 Siberian scientists determined that due to the increase in average annual temperatures, the growth of birches increases, and the birch tree sites themselves expand, moving into the mountains. If the warming continues, in the future, forests will penetrate the area of modern mountain tundra. The results of the study are published in BIO Web of Conferences.
The observed climate change will significantly change the appearance of the Earth, affecting the usual lifestyle of people. The objective of the scientists is to find out how ecosystems will behave in new climatic realities.
The Krasnoyarsk scientists studied the response to climate change in such a common tree species as birch. They found that with the climate warming, the annual wood increment increases in birches growing in the highlands, while the trees themselves tend to move to heights unusual for them.
Research was conducted on the boundary between forest and mountain tundra of the Kuznetsk Alatau. Such transition zones are most sensitive to various climatic impacts. The trees growing there are highly responsive to environmental changes, with the human impact on nature being minimal. All this makes Kuznetsk Alatau a convenient place for studying the response of trees to the action of two important climatic factors: temperature and humidity.
Scientists estimated the response of birches to recent climate change - from the seventies of the last century up to the present. They noticed that young trees are found in the mountain tundra, where they were not observed before. Remarkably, with the increasing height, their age was younger. With the increasing temperature, these harsh lands became favorable for the birch growth. The researchers were able to determine that birch trees occupy the mountain tundra at a speed of about half a meter per year.
"Due to the warming, birch trees occupy heights where conditions become more favorable for their growth. However, in "harsh" climate scenarios, implying an increase in the average temperatures by 2°C by the second half of the 21st century, even in high mountains the trees are likely to experience moisture deficit, " says a co-author of the study, Ilya Petrov, Candidate of Biological Sciences, senior research associate at the V.N. Sukachev Institute of Forest KSC SB RAS.
The study was supported by the Russian Science Foundation and Russian Foundation for Basic Research.
Share: