The scientific communication group is shortlisted for the prize "Communication laboratory-2019"
17 June 2019 г. FRC KSC SB RAS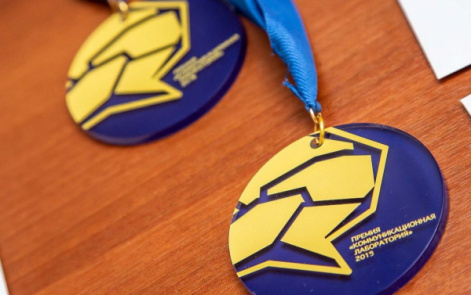 The results of voting for the first round of the judging panel for the prize "Communication laboratory", the first professional prize in the area of scientific communication in Russia, have been summarized. The judging panel has revealed a list of scientific and educational organizations with the best practical aspects in scientific communication - promotion of scientific news in mass media and social media networks as well as organization of scientific-popular events.
The scientific communication group of the Krasnoyarsk Science Center SB RAS has got two nominations: "Experiment" and "Eureka!" (Small Grand Prix). The nomination "Experiment" is given for the best practical aspects in the area of off-line communication. Non-media projects are estimated, including lecture courses and scientific popular events. Creativity of presentation, project scalability and, if possible, audience coverage are taken into account. Another nomination "Eureka!" or Small Grand Prix is given for high standards of quality of communication work for small communication teams (1-3 people) in a scientific organization. The judging panel chooses a team with high standards of work taking into consideration all the parameters: number of channels, content quality, initiated publications in mass media, response to the problems, and manner of work management under the conditions of a small number of employees.
In comparison with the last year, the short lists have considerably changed; however, there are stable leaders. The traditionally strong organizations are Higher School of Economics and Siberian Branch of the Russian Academy of Sciences, and in this year, Krasnoyarsk Science Center SB RAS is also among the best. There are also new names in the lists of contestants for the Small and Big Grand Prix.
"The prize has been awarded for three years and it has attracted more and more attention of the colleagues- scientific communicators in higher educational and research institutions. It evidences the development of the area and demonstrates the wish to speak about the current work and share the experience, says the chairperson of the organizing committee of the prize "Communication laboratory", president of Russian Science Communication Association (AKSON), Alexandra Borisova. "The standards of work are growing from year to year. In fact, there are more strong organizations, all of them cannot be shortlisted, but we especially congratulate those who have managed to get into these lists. The authoritative judging panel has highly estimated their work, which is a great achievement."
The judging panel of the prize includes scientists who are active in mass media, scientific journalists, PR managers of development institutions and high technology enterprises, as well as the laureates of the Вig and Small Grand Prix of the last years.
The awarding ceremony is to take place on June, 28th at the III Annual Russian National Forum of Scientific Communicators in Saint-Petersburg, at the ITMO University which hosts the Forum, being the winner of the Grand Prix in 2018.
Source: AKSON
Share: