Young painters tried to depict Krasnoyarsk science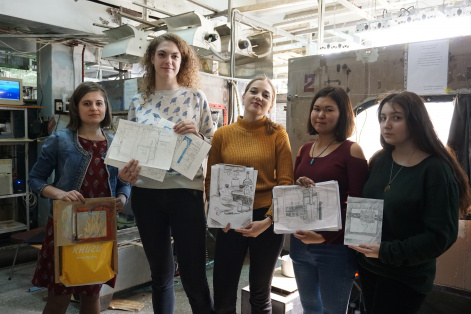 Shortly before the Cosmonautics Day painters from D.A. Hvorostovsky Siberian State Institute of Arts and Krasnoyarsk Surikov Art School depicted the equipment of the closed life support system BIOS-3. This is the first stage of a long-term project «Scientific sketches»; in the frames of this project painters will visit the laboratories of the Krasnoyarsk Science Center and create pictures there.
In the Krasnoyarsk Science Center SB RAS one could see what happens when science is in contact with art. According to the original idea, the project «Scientific sketches» is to unite science and art. Its first stage was called «Martian sketches». It took place shortly before the Cosmonautics Day. The students of creative specialties were shown the most well-known experiment of Krasnoyarsk scientists. BIOS-3 is an experimental complex with independent control simulating closed human life support system. After a scientific popular lecture, young painters made several sketches in pencil, pastel and marker pens in the laboratory while the scientific process was underway and the experiment was being carried out.
Long space flights and colonizing other planets requires creating environmental life support systems. When a person works in confined space far from his home, the planet Earth, it is necessary to create for him the conditions, which would support his usual life: to provide him with water, air and food, to remove waste products. The constructions in which the main role is given to plants are considered to be the most promising. The principle of work of the life support system is in the fact that plants produce oxygen, plant food and partially purify water to be consumed by the crew. Organic wastes obtained in this process are recycled and used as a nutritious medium for new seedlings. These developments will be useful in the exploration of far space, in future flights to Mars and other planets and in their colonization.
«To invite scientists into the laboratory is an interesting experience. Our equipment seems to be something that is usual for us but the students with the creative approach looked at our work from a different view point. Now, we have an idea to create a painted brochure about BIOS which would popularize our work in a simple and comprehensive language», says Sergei Trifonov, Candidate of Biological Sciences, senior research associate of the Institute of Biophysics KSC SB RAS.
«Yesterday we were happy to visit a laboratory which is working at a space project! We had excursions in two buildings and were suggested making sketches in the laboratory itself; it was something new and interesting. When you are drawing things which move science forward, it gives a great pleasure. Communicating with scientists I understood that art and science are close in the perception of the world. In general, all people who are researching «their» problem contribute into the development of science, art, or information technologies. Our visit was useful and we hope it was not for the last time, says Anastasia Bulat, a four-year student of Hvorostovsky Siberian State Institute of Arts.
Share: