Solemn presentation of diplomas to the first graduates of the postgraduate course of the Federal Research Center "Krasnoyarsk Science Center of SB RAS"
2 October 2020 г. FRC KSC SB RAS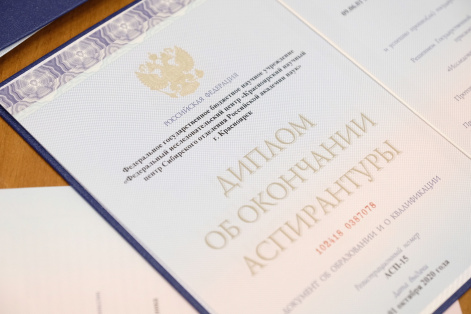 The Krasnoyarsk Science Center SB RAS held a solemn presentation of diplomas to the first graduate students. The scientific world has been replenished with 21 researchers, future candidates of physical and mathematical, biological, chemical and medical sciences.
October is the traditional beginning of the academic year for post graduate students, but for some of them this month was its bright end. Twenty-one young scientists from the Krasnoyarsk Science Center received the long-awaited postgraduate diplomas.
Certificates were presented to the young scientists by the director of the Federal Research Center - Alexander Shpedt and scientific director of the Center, academician - Vasily Shabanov. They noted that scientific activity is a high quality of life, which, in addition to material benefits, includes interesting work, self-development, self-actualization and exciting activities.
"There is an interesting, but not an easy way ahead for the post graduates," notes Ekaterina Nefedova, head of the postgraduate study department of the Federal Research Center KSC SB RAS, "some post graduates will soon defend their candidate theses, someone decided to continue and complete their research next year. Five people submitted their works to the dissertation councils. Soon new young specialists-candidates trained at the Krasnoyarsk Science Center will come to science "
We congratulate young scientists with successful defense and graduation and wish them further scientific achievements.
Share: