Postgraduate students of the second graduation received their diplomas at the Krasnoyarsk Science Center of SB RAS
29 September 2021 г. FRC KSC SB RAS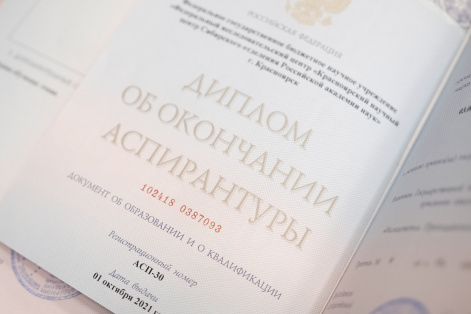 On September 29, 17 postgraduate students received their postgraduate diplomas. This is already the second graduation at FRC KSC SB RAS. Today in the assembly hall the young scientists were solemnly congratulated.
Ekaterina Nefedova, head of the postgraduate study at the Federal Research Center of KSC SB RAS, shared her impressions: "They have come a long way in 4 years. Thanks to the post-graduate course, many of them will continue their carrier in science. Next year we plan to increase the amount of post-graduates. We train highly qualified personnel. Having received the diplomas of teacher-researchers, they are now eligible to teach. Earlier postgraduate studies ended with the defense of a thesis, but this year students get a diploma of higher education. We hope that many of them will defend the candidate's thesis. We have a fairly wide range of areas of scientific research, therefore, our specialists are diverse. We are proud of our post-graduates"
FRC KSC SB RAS implements educational programs of higher education, namely the programs for training highly qualified scientific and pedagogical personnel in postgraduate studies (full-time and part-time) on the basis of a license for educational activities No. 2361 dated August 30, 2016 (State Accreditation Certificate No. 2621 dated June 16, 2017).
Directions of training:
01.06.01 Mathematics and Mechanics
03.06.01 Physics and Astronomy
04.06.01 Chemical Sciences
06.06.01 Biological Sciences
09.06.01 Computer science and computer technology
12.06.01 Photonics, instrumentation, optical and biotechnical systems and technologies
06.18.01 Chemical technology
30.06.01 Fundamental medicine
06.31.01 Clinical medicine
35.06.02 Forestry
One of the postgraduates of this year, Roman Moryachkov, Junior Researcher at the Laboratory of Digital Controlled Drugs and Theranostics of the Federal Research Center of KSC SB RAS, told about his impressions: "I entered the post graduate school because I knew that I wanted to become a scientist and to do science. For this, in fact, earlier I entered the master's course for a second higher education, although I already had one education. My speciality is physics. At first, it was the physics of magnetic phenomena, but then I switched to another direction - physics of the condensed state of matter, since this area is closer to the research that I was doing. Fortunately for me, my scientific work started back in the master's course, we started experiments, worked on experimental installations of the mega-science class, on various synchrotrons in Russia and abroad, performed data processing, obtained new information that no one in the world has ever had before. And then I felt that this is the cutting edge of science. "
We congratulate our colleagues and wish them successful defense of their candidate theses in the near future!
Share: