Exhibition of scientific photography "Objects and Structures" opens at the Museum Center "Peace Square"
24 March 2021 г. FRC KSC SB RAS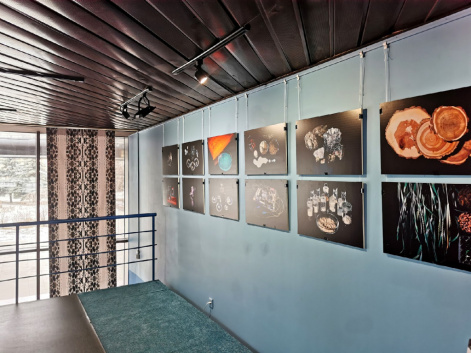 In the year of science and technology, the Federal Research Center "Krasnoyarsk Science Center of SB RAS" organizes an art exhibition "Objects and Structures". Two series of works created in the style of science art, scientific photographs "Objects" by photographer Anastasia Tamarovskaya and collages "Structures" by Alexey Shidlovsky, creatively show the directions of scientific research in KSC SB RAS.
On March 27, Saturday, at 14.00, the exhibition will be opened at the Museum Center "Peace Square". On the first day, visitors will see a scientific show from the Newton Park Museum of Interactive Science and a scientific and educational excursion by Yegor Zadereev, Candidate of Biological Sciences, head of the scientific communications group of the Federal Research Center of KSC SB RAS. All visitors will learn about the amazing scientific advances in Krasnoyarsk. For the participants of the excursion, the organizers have prepared pleasant surprises and prizes.
The exhibition program also includes "the Space Evening:. It will take place on the eve of Russian Cosmonautics Day on April 10. The program of the evening includes an interview with Krasnoyarsk scientists from the documentary "Space over the Yenisei", a discussion with the film's director Elina Astrakhantseva and scientists of KSC SB RAS. You will find out what developments of Krasnoyarsk scientists will allow us to live on the Moon, Mars or other planets in the future. The premiere of the film is scheduled for 2021 in honor of the big date of the 20th anniversary of the first manned flight into space.
The exhibition at the Museum Center "Peace Square" will last until May 11.
Address: Museum Center "Peace Square", Mira st., 1.
Exposition location: Zoom room, 1st floor.
Share: